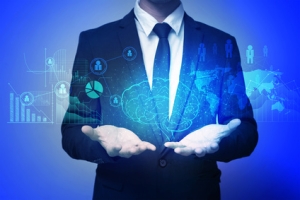 I don't need to tell you that field service is a competitive business and getting more so with each passing day. Customers are more knowledgeable and demanding, competitors are innovative and tough, and the great things you do for your customers are often overlooked. It's time to bring BYOB service to your customers and gain the competitive edge. BYOB stands for "Bring Your Own Brains" and the service company that offers this service encourages their technicians to bring their heads as well as their hands when providing a service for a customer.
In today's competitive environment, the best way to stand out from the crowd and to take market share is to demonstrate to your customers that they are better off for having hired you. Not only is their equipment running in tip-top condition, which is what they would expect by engaging a professional and competent company like yours, but they can say that your efforts have made a contribution to their business that was beyond the scope of the work you were contracted to perform. Maybe because of their relationship with you they are operating more efficiently or safely. Perhaps your recommendations have helped them extend asset life or achieve some sort of important recognition or goal. Regardless, they can look to your relationship as bringing much more value than simply keeping the equipment running and they will reward you by renewing their contract and telling their friends and colleagues.
Of course, the only way to help your customers to be better off is to recognize what is important to them and identify and communicate those actions that the customer can take that will help them make improvements. Our field team plays a critical role here because they are the ones in the best position to gain an understanding of the customer's challenges and goals and recognize steps that can be taken to address them.
This is where BYOB Service comes in. This helps technicians recognize that a critical part of the service that they provide is looking for ways they can help that customer achieve their goals and helping the customer recognize the value in taking action. BYOB Service providers show their field personnel that proactive conversations with their customers about their recommendations is not selling, but rather an integral part of the service that they provide. BYOB Service companies nourish and build upon the brains of their technicians through training, coaching and practice.
How about your service offering? Do you provide BYOB Service for your customers? Do your technicians recognize that their job is more than fixing things and keeping the equipment running efficiently? Do you and your management team nourish the proactive efforts of your technicians through ongoing training and constant coaching and support? Do your customers recognize your efforts and can they say they are measurably better off for having engaged you?
As always, I welcome your comments and questions. You can connect with me via telephone or email or leave a comment right here on the site. And as always, please feel free to leave a link back to your own blog if you have one via the commentluv feature here on the site. If you are reading this blog post via email, you will need to locate this post on my website by clicking here. Scroll down to the bottom of the page where you will find the comment section.
Jim Baston
"I not only use all the brains that I have, but all that I can borrow."
– Woodrow Wilson