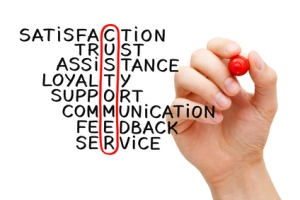 Business development by service technicians is often regarded by management as a tactic to be employed to build new business, rather than a differentiating business strategy to impart a superior service experience. Below are 4 questions to ask yourself to determine which approach your organization employs.
When service firms think of business development as a tactic they to tend focus on short-term activities that may achieve immediate gain at the expense of long-term growth. A tactical approach focuses on the question: "How can I get my service technicians to be more assertive in promoting our products and services to our customers?" The downside of the tactical focus is that short term tactical thinking can sometimes lead us to think of how the customer can serve our needs rather than how we can serve the needs of our customer. We may look at the opportunity in terms of "… let's leverage our customer relationships to win more business." In addition, a short term, tactical approach may obscure much larger opportunities to truly build a differentiated service offering.
Firms that look at business development by technicians as a differentiating business strategy, look at their relationships with their customers differently. They tend to focus their efforts in ways that better serve the customers' needs rather than their own. Their thinking changes to "… how can we capitalize on our knowledge and experience to help our customers be better off for having known us? How can we use this approach to serve our customers so well and so uniquely that they would never think of going anywhere else?" This builds more credibility with the customer and leads the service firm to look for strategies that formalize the day-to-day opportunity identification efforts of the technician into an integral component of their service rather than an add-on to it.
This difference in perspective can mean a subtle difference in approach – and a big difference to long-term results. Which perspective guides your firm? Here are four questions you can ask yourself to find out.
1. Is opportunity identification part of our service deliverable?
Let's go back to the question, "How can we help our customers be better off for having worked with us?" When we take this perspective, we view the act of finding new opportunities not as an "add-on" activity for techs to do "while they are there", but an integral part of the technician's expected service deliverable. Their ability to recognize and recommend actions that their customers can take becomes as important as their ability to keep the equipment running in tip-top condition. With this focus on business development as a strategy rather than a tactic, we can start to implement specific tools and processes that formalize this "opportunity identification" role.
2. Do your technicians recognize the valuable service they provide by making recommendations to help their customers be more successful?
Many of the technicians that I have met do not see their role as a salesperson. They tend to leave sales activities to the people with the expense accounts and fancy cars. What these technicians fail to see is that we are not asking them to sell at all. We are asking them to serve. By identifying and speaking with the customer about the actions that the customer can take that will help them improve operational performance, reduce costs, improve tenant satisfaction, etc. is a valuable part of the service.
3. Do your processes support your business development strategy?
There are implications from this approach on the processes used to support business development activities by technicians in the field. Because lead handling becomes just as important as lead generation, the successful firm will have to ensure that they have a failsafe process for handling leads from the field and following up on them in a timely manner.
4. Do you and your technicians have the skills to deliver on the strategy?
Skills development is also an integral part of the strategy. Service technicians will have to become as good at interpersonal skills as they are with their technical ones. Service management will need to be skilled at coaching and in opportunity management. Training on these interpersonal and communication skills will be seen as critical to performance, which in itself will drive improved learning and skills adoption.
These questions and many others are answered in our technician training program called The Proactive Service® Workshop. It has proven to be of great value to organizations of all sizes. Please click here for more information about this program. Let us help you transform your customer's service experience.
When business development becomes part of the strategy rather than a tactic, our approach focuses on the needs of the customer and how we can profitably satisfy them. And that is what service is all about.
I welcome your feedback. You can connect with me via telephone or email or leave a comment right here on the site. And as always, please feel free to leave a link back to your own blog if you have one via the commentluv feature here on the site. If you are reading this blog post via email, you will need to locate this post on my website by clicking here. Scroll down to the bottom of the page where you will find the comment section.
Jim
"All … can see these tactics whereby I conquer,
but what none can see is the strategy out of which victory is evolved."
– Sun Tzu